The BioMedIT project will establish a coordinated nationwide network of secure infrastructures to support computational biomedical research and clinical bioinformatics. BioMedIT is coordinated by the SIB Swiss Institute of Bioinformatics and builds on the centers of expertise established at our partner universities (regional nodes). The purpose of the BioMedIT project is to support personalized health research by widening scope of the regional nodes to fulfill the stringent legal and security requirements with respect to technology, policies and competences. The BioMedIT is complementary to the activities of the Data Coordination Center of the Swiss Personalized Health Network initiative, which aims to establish interoperability of health-related information by building a dynamic scalable network of data providers based on common standards for formats, semantics, governance, and exchange mechanisms.
sciCORE services cover the entire process from hardware implementation to the generation of scientific results. See the service overview below.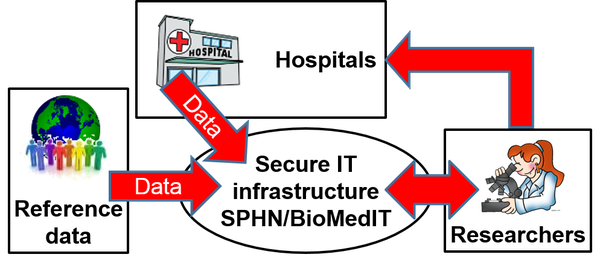 sciCORE BioMedIT service overview
Initial consultation
New Installation of existing platforms / services
New platforms / services
Service maintenance
On-going service consultation and support (infrastructure, data management, data analysis)
sciCORE's BioMedIT architecture
sciCORE is the BioMedIT node for northwest Switzerland. It deployed a secure environment for computing and data storage/management in support of biomedical research.
The BioMedIT infrastructure adheres to the SPHN Information Security Policy and implements strict access control and data stewardship principles, such as tenant isolation, two-factor authentication, data encryption, etc.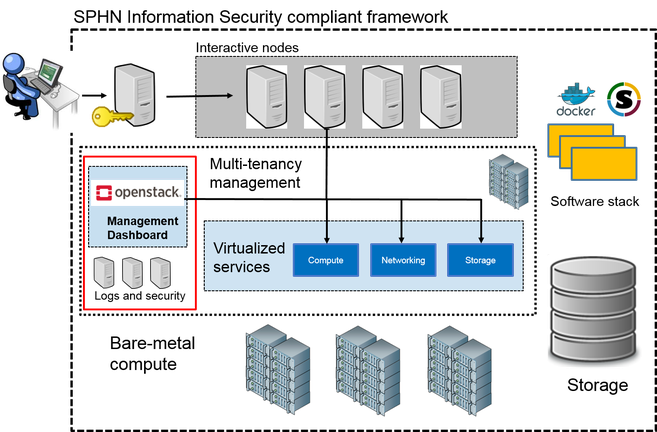 Further information
SPHN – The BioMedIT Network: A Secure IT Platform for Research with Sensitive Human Data
Diana Coman Schmid, Katrin Crameri, Sabine Oesterle, Bernd Rinn, Thierry Sengstag and Heinz Stockinger, on behalf of the BioMedIT network team;
Studies in Health Technology and Informatics; Volume 270: Digital Personalized Health and Medicine, 2020,  Pages 1170 - 1174
DOI: https://doi.org/10.3233/SHTI200348